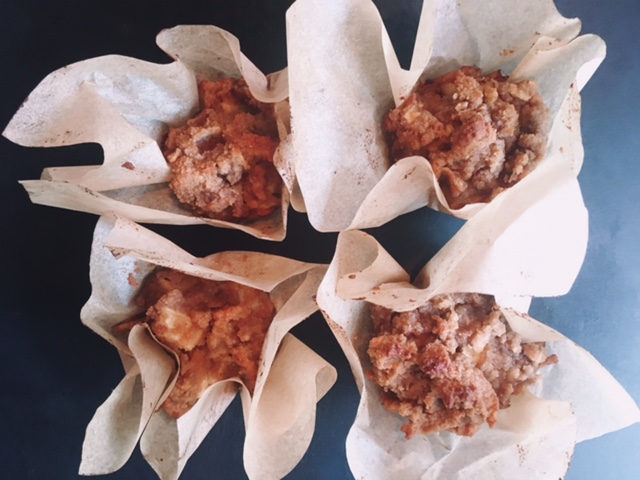 Apple Cinnamon Muffins
 
Growing up in the Annapolis Valley in Nova Scotia made me acquire a great appreciation for quality apples. It is Fall so that means apples and pumpkin everything!!
Here is a recipe to add to all your wonderful fall creations!

PROTEIN APPLE CINNAMON MUFFINS
1 ½ cups almond flour
2 tbsp. coconut flour
1 scoop vanilla protein powder, (I used Biosteel Vegan Vanilla Protein Powder)
½ tsp. baking soda
¼ tsp. salt
1 tbsp. ground cinnamon
¼ tsp. ground nutmeg
2 large eggs
5 tbsp. melted coconut oil
1/3 cup maple syrup
2 tsp. vanilla extract
¾ cup grated apples
1 ½ cups chopped apples
Directions:
1.     Preheat oven to 350F. Line muffin tin with small parchment paper or muffin liners.
2.     In a medium bowl mix together top 7 ingredients and set aside.
3.     In alarge bowl, mix together eggs, coconut oil, maple syrup and vanilla extract. Fold in grated and chopped apples.
4.     Divide batter into muffin tin. Bake for 25 minutes or until toothpick comes out clean.
5.     Let cool for 5-10 minutes before enjoying.