You CAN make friends with salad…
Salads are often associated with dieting and restriction but it really doesn't have to be that way. Salads do not need to resemble rabbit food and be labelled as "diet" food. With the right ingredients salads can actually be pretty delicious and filling.
In my most recent video with Janey Brown (singer/songwriter and spiritual G) I show her how to make a big ass salad that actually tastes good and fills her up.
Top 7 Ways To Make Friends With Salad 
1. Mix up the greens. Let's face it crunchy iceberg lettuce can bet pretty boring. I understand why people can't get full when they are eating iceberg lettuce all the time, it is essentially water. Which is great, BUT we want to focus on different sources of greens (typically the darker the green, the more nutrients). Include kale, spinach, arugula, mixed greens etc.
2. Add some complex carbohydrates. In order to keep your energy levels steady throughout the day (without big ups and downs) I recommend adding in complex carbohydrates to your salads. My favourite additions are roasted sweet potato or squash, millet, brown rice, or quinoa (quinoa is also a complete plant based protein- BONUS)
3. Up the protein. Protein will help to boost your fullness factor especially when added to a salad. You can add a animal source, like chicken, fish or use a plant based protein source like beans, lentils, chickpeas, quinoa etc.
4. Make a bad ass dressing. As demonstrated in the video above, the dressing can make or break the salad. I love EVOO (extra virgin olive oil) and balsamic vinegar but it can get pretty boring. Switch up the oils and try avocado, hazelnut, or flax. I would also recommend switching up the vinegar and include fruit (lemon, limes , orange etc.), red/white wine vinegar,  apple cider vinegar etc. (See below for hemp seed dressing recipe)
5. Choose a variety of vegetables.  It can be easy to slip into a routine of adding the same vegetables to every salad; tomato and cucumber sound familiar? Add in veggies like cabbage, carrots, beets, cauliflower, etc.
6. Sprout it up. Sprouts are a great addition to your salad because they provide you with a ton of nutrients. Add a variety of spouts like alfalfa, sunflower, pea sprouts etc.
7. Get creative with toppings  I typically top my salads with some sort of seed to up the protein and healthy fat content like hemp, sesame or pumpkin seeds. I will also add nuts like cashews, almonds or walnuts. And if i'm feeling crazy I will add some cheese for a little extra creaminess and protein. (Goat or sheep Cheese on salads is my favourite!)
So there you have it. My top suggestions for making a healthy, hearty salad.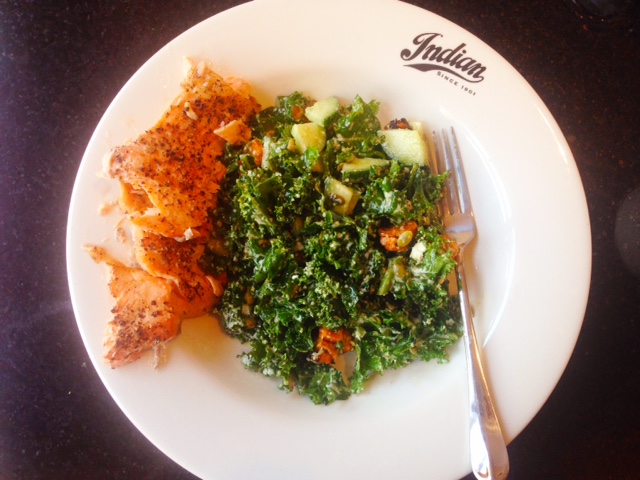 SWEET POTATO HEMP SALAD RECIPE
1 sweet potato (I usually roast 2-3 and use them throughout the week).
1 bunch of dinosaur kale
2-3 tbsp. Pumpkin seeds
1/2 Chopped cucumber
Goat cheese (crumbled)
2 filets organic rainbow trout (optional)
Dressing:
1 garlic clove (minced)

1 juiced lemon

3 tbsp. EVOO
3 tbsp. Hemp seeds
1 tbsp. Nutritional yeast
Sea salt and pepper
(May need to add a little water if too thick)
 Preparation:
Roast sweet potatoes:
Preheat oven to 375 degrees
Line a baking sheet with parchment paper
Cut 2-3 sweet potatoes into cubes, toss in bowl.
Place on baking sheet
Bake for 15 minute, then flip, bake for an additional 15 minutes.
Fish Preparation:
Preheat oven to 350 degrees
Season fresh filets with sea salt and cracker pepper
Bake for 15-20 minutes based off of thickness of the fish.
Dressing:
In a small food processor, pulse garlic clove to mince
Add juice lemon, EVOO, hemp seeds, nutritional yeast, salt and pepper, pulse until mixed (might need to add a bit of water if too thick)
Assemble Salad:
Wash and remove stem from kale
Roll kale leaves and chop finely
Place in large salad bowl
Add chopped cucumber
Roasted sweet potato
Dressing
Top with pumpkin seed and goat cheese
Serve with roasted trout